CHAPS in the media
Murney Tower Calls The Ghost Hunters
News source: http://www.station14.ca/
The Murney Tower Museum has called C.H.A.P.S. Paranormal, a group of ghost hunters to determine if there is something more to the historic landmark than meets the eye. We were there when the team arrived and got a close up look at how they do it.
August 30 2015
Evidence suggests Murney tower haunted
By Steph Crosier, Kingston Whig-Standard Sunday, August 30, 2015 10:40:11 EDT PM
News source: http://www.thewhig.com/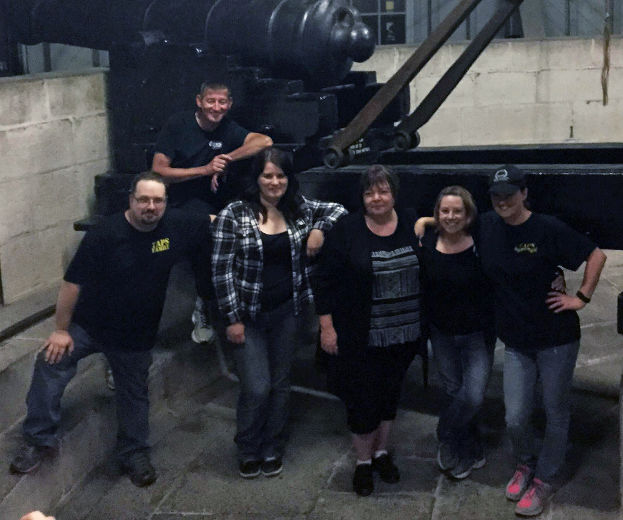 A shuffle of feet below them, the graze of a hand on an arm and an active electromagnetic fields detector indicates the Murney Tower National Historic Site of Canada just might be haunted, but it is still too early to tell, according to Dave Gibb, director and lead investigator of the Canadian Haunting and Paranormal Society (CHAPS).

The three-storey Martello tower was build in 1846 as part of a military defence system against the invading Americans. Gibb, and his volunteer team of five, were at the tower Saturday night with audio and video diagnostic machines, night-vision security cameras and electrical analyzing devices.

"I had more activity than what I expected," Gibb said Sunday afternoon. "It was definitely more interesting than I expected, most museums are very dry."

Not the case for the Murney Tower. While on the main floor, the team heard feet shuffling in the basement, then Gibb said a team member felt a hand touch his arm when no one was there. Gibb's electromagnetic field detector was also active flashing from green, for all clear, to red, indicating there could be a presence nearby.

Gibb said the basement was definitely the busiest area.

"Most of what we got was in the basement and by the stove on the main floor," Gibb said. "We haven't gone over our auto yet, which would get electronic voice phenomenon, that's where most of our evidence comes from."

Gibbs said it will take a couple of weeks to go over all of the evidence.

Johanna Strong, interpretor at the Murney Tower Museum, said the night went very well. She said the paranormal investigative team was brought in following in the footsteps of Fort Henry, which was investigated by CHAPS in October 2009.

"We thought it might be interesting given the age of the tower and a little bit of its history to see if there was anything going on here, and it had never been done before," Strong said. "It's a good thing to do, to see, almost certainly, whether there are or not any one is hanging around that we don't know about."

Before investigating the tower on Saturday, Gibbs said CHAPS isn't like a television show looking to prove there are ghosts present -- they do the opposite.

"It seems against what a lot of people expect we do, but honestly that's our job, our job is to prove that it's not haunted," Gibb said. "That way when you're left with evidence, then it's interesting."

steph.crosier@sunmedia.ca
Twitter.com/StephattheWhig

GHOSTS: Are they real or imagined?
Paranormal probe at CCC
By Nicole Gall - Special to The Daily News
October 29th, 2011
With Halloween just around the corner, signs of spirits and spectres are simple enough to find - unless you're looking for the real thing.
That was the objective of Canadian Haunting and Paranormal Society (CHAPS) members' Oct. 21 investigation of the Chatham Cultural Centre, where Marketing Coordinator Laurie Langford told The Daily News, there have been reports of disembodied voices, office supplies going inexplicably missing.
Not to mention ghost sightings over the years.
Armed with audio and electromagnetic frequency (EMF) recording devices, volunteer CHAPS paranormal investigators Bryce Giroux of Chatham and Kevin Davidson of St. Thomas braved the basement of the centre to either disprove the presence of a haunting, or prove that there is a paranormal presence.
"It's believed that in (the basement) area a man hung himself - a janitor - we're not sure of the date, we're not sure of the time," Davidson said as the group gathered. "We've also been told by a medium that he's down here holding people captive, trapping them down here for some reason."
Davidson added that a digital audio recording from a previous CHAPS investigation of the mezzanine in the Thames Art Gallery has revealed electronic voice phenomenon (EVP) - a masculine voice calling out the name "Wayne".
To begin the investigation, Davidson and Giroux took a baseline EMF measurement of the basement, with Giroux explaining that electromagnetic frequencies play an important role in either debunking a haunting, or providing evidence of paranormal activity.
"Electromagnetic fields can cause problems with hallucinations; people can think that it's paranormal," said Giroux. "We try to debunk that and say, 'Your alarm clock right beside your bed is giving off a high electromagnetic field which is making you feel like you're experiencing paranormal activity.' But then we also run into situations where there is a field that we can't explain."
With an eye on the EMF device for fluctuations, Davidson and Giroux explored each room of the basement, calling out questions to the spirits suspected to be present.
While the investigation of the basement did not produce any physical sign or immediately audible evidence of paranormal activity, Giroux said the audio recording of the investigation would be scrutinized for "A1" class evidence of electronic voice phenomenon, or "good, clean EVPs where there's no other explanation for them."
At press time Giroux reported that a review of the audio recording uncovered "one or two interesting anomalies" such as a faint voice that seems to be saying "leave me alone", however he does not plan to present the recording to the Cultural Centre as evidence without a video confirmation that there is no explanation for the voice.
Giroux said that of the over 200 investigations that CHAPS members have conducted throughout northern, eastern and southern Ontario to date - most being residential - roughly one in ten has demonstrated acceptable evidence of paranormal activity.
"We try to keep an open mind, but as they say, don't keep your mind so open that your brains fall out," said Giroux.
"We're not going in psyched up that we're going to see ghosts. We try to go in with the mindset that there is nothing going on. We debunk a lot.
"When somebody has claims of cupboard doors opening on their own we go in there and check for air pressure - front doors that cause the cupboard doors in the kitchen to bang. We do a lot of those kind of experiments.
"We go to people's houses and make them feel more comfortable by either finding a logical explanation... or we say yes there is something paranormal going on here, but it's not looking to hurt you, it's just looking to make contact with you."
While their initial investigation of the basement did not produce evidence of paranormal activity worth presenting, Giroux said CHAPS members will present three short films of evidence of paranormal activity that was discovered during the previous investigation of the mezzanine in the gallery, and at the Milner Heritage House and the Chatham Capitol Theatre. The films will be presented as part of Beyond Belief: The Paranormal in Chatham-Kent, an event set to take place at the Thames Art Gallery at the Cultural Centre on Saturday, October 29 at 7:30 p.m.
Tickets for Beyond Belief are $40, including a $30 tax receipt from the Friends of the Cultural Centre, and can be purchased at 75 William Street North, by phone at 519-354-8338 or online at www.cktickets.com. Tickets include complimentary hors d'oeuvres, a live band, cash bar, a presentation by the members of the CHAPS team and spirit communication by five mediums. There will be a prize for best costume. Proceeds from Beyond Belief will go toward the expansion of the Cultural Centre Founder's Garden.
Original Article: http://www.chathamdailynews.ca/ArticleDisplay.aspx?e=3350949
Feedback from one of our clients
Comments like these are why we do what we do, not only is it the interest in the paranormal, but helping people....
hey dave,
i would like to start by saying sorry about not being able to have you here for the evening. also i would like to thank you and your team for your amazing investigation and the amazing learning experience. i must say that when you guys left i could honestly say that it felt as though i was saying goodbye to some friends. your team and yourself were extremly professional and at the same time very inviting.if you guys are ever in the area and would like to stop by please feel welcome to stop in. there is always an extra seat in our house for friends. my wife asked me to extend a very heartfelt thank you for your notice about the emf in our sons room. and we got the heat fixed lol. for some reason the furnace has a emergency kill switch on it that has to be turned off by hand inside and somehow it was shut off. anyways thank you again and we hope to see you again.
<name removed>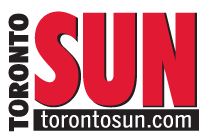 For some people, ghostly hauntings are just for Halloween. For paranormal investigators, ghost hunting is a 365-day-a-year fascination.
"At this time of year, I am swamped," says Robin Bellamy, a paranormal investigator with the Toronto and Ontario Ghosts and Hauntings Research Society. "The idea of Halloween certainly makes people more interested in ghosts. But it's also that, as the weather goes from warm to cool, houses creak more."
Bellamy, who has been with the society since 2001, still describes herself as a skeptic.
"The word 'skeptic' in its true form means you can believe either way. We approach every case like that," she says. "Still, some cases have floored me."
Steve Gyuker is the founder of the Greater Toronto Area Paranormal Society. His interest in all things supernatural began with an encounter at age 16. While home alone in his bedroom, the television suddenly turned itself on and the bedroom door slammed shut.
"I felt an extreme coldness," Gyuker, now 24, recalls. "But there were no windows open or anything, so I ran out."
From there, Gyuker began exploring abandoned homes. After receiving fines and tickets for trespassing, he decided to start conducting proper investigations. Today, his team gets called to visit 20 to 30 locations each year.
Footsteps and weird feelings
"Usually, a client would tell us that they hear bangs or voices inside the home," he says. "On rare occasions, they will also claim to have objects move. Most commonly, it's footsteps, cold spots, weird feelings, paranoia or a loss of balance."
About 90% of the cases can be debunked or explained, he says, so it's rare to find a truly haunted location.
"Still, it is definitely interesting when you hear footsteps coming from a room when the whole house is locked down and the only people there are your investigators," he says.
Chills, anyone?
David Gibb is the director of the Canadian Haunting and Paranormal Society (CHAPS). He reminds would-be ghost hunters that the job is not always exciting, and rarely glamorous.
"We have a lot of people who come out and think they're going to get punched in the face by a ghost," Gibb tells me. "But it's a lot of cheap hotels and bad coffee. You sit up late at night listening to audio files hoping to catch that little piece."
All three organizations are not-for-profit. They do not charge fees to visit a house and they travel all over the province and beyond.
"We've done cases all the way up in Montreal," Gyuker says. "We go all over and we do not charge a dime. There was a case last year where we were given hamburgers for our effort. But our real payment comes from what we learn about the afterlife."
They are also not exorcists. They do not "clear" houses like the guys in the comedy Ghostbusters.
"We try to give people peace of mind," says Gyuker. "If a house is very active, we may advise the family to sit down together and ask whatever is there to leave. This can stir up poltergeist activity for a week or two, and then it will leave."
Terrifying, thrilling
If you're like me, this sort of thing terrifies, thrills and gets the little hairs on your arms standing on end.
Whether you're a believer or not, you can't deny that society has a fascination with things that go bump in the night.
"It's knowing that this life is not it," Gyuker says. "It's the hope that, once we die, we do go somewhere."
"Things happen and we can't immediately explain them, but we have a need to," adds Bellamy. "That's how this whole thing got started. Someone said: 'What was that?' And they tried to find out."
rachel.sa@sunmedia.ca Twitter: Rachel_Sa
Written By Jessna A. Woods
Paraex Associate Director
for TAPSParaMagazine
Every investigator in the TAPS Family or any established group can sometimes get burned out with the endless personal home investigations. We all know how important it is to help these clients to feel comfortable and in control of their own homes, but sometimes it's fun to also mix it up a bit. Perhaps add a little challenge that a home investigation does not present. Paraex has done this a few times in the past by joining up with both TAPS Family and non-TAPS Family paranormal investigative groups. We find it shows us some different techniques in investigating that could potentially help us refine our skills out in the field and also just to have fun!
Recently Canadian Haunting and Paranormal Society better known as CHAPS (and yes, they are aware of the lewd jokes that could follow with the acronym of their team's name) invited Paraex for a weekend of TAPS Family fun and investigation. The subject of investigation was none other than Waverly Hill Sanatorium in Louisville, KY. The tuberculosis hospital opened in 1926 and closed its' doors to its' final patient in the 1980's. The building is both filled with beauty and supposedly paranormal activity. TAPS investigated this building once in 2005 and a second time for one of their live Halloween investigations in 2007 on "Ghost Hunters". Is Waverly Hills just hype or a great beacon that rightfully calls on investigators for great find of evidence?
Twelve members of CHAPS made the trek from Canada with three members of Paraex from their home state of Ohio to meet at the designated hotel the night before. It was filled with our best investigative stories, some laughs, and perhaps some poking at the Canadian accent. It was definitely an ice breaker for two teams that had never met before that weekend in May of 2010. By the time we all hit our beds (or in some cases our couches), we had made some new friends in the paranormal.
The next morning was pretty laid back before we met up in early evening for a meeting for a plan of attack. The fifteen members of both groups were split up into three different groups to investigate in later that night. The meeting led to dinner and then to the object of our infatuation; Waverly Hills Sanitarium. Despite the building's size and close proximity to Dixie Highway below, Waverly is hidden behind a wall of trees and it isn't until one goes up the winding driveway that you meet her. My first impression of Waverly Hills was overly welcoming. Despite the knowledge of the suffering and pain that occurred inside the walls, the building's presence was nothing like the horror you imagine TB brought to its' patients. CHAPS and Paraex got a tour of the hot spots we had heard so much about before we were given free reign. Our carefully laid plans from our meeting of course changed upon meeting Waverly Hills, but soon we had command central set up on the fourth floor and we were rolling. My personal group consisted of the three members of Paraex (Chris Myers, Shannon Dingus, and Jessna Woods) with three members of CHAPS (Dave Gibb, Shannon Cowan, and John Tallon). Our first stop was the morgue which Paraex's Shannon and I "fought" over who was first to lay in the body trays. I won out and was laid out to roll into the enclosure. Some call me crazy for this and others think it's awesome, but really the creepiest part was the being rolled initially. A camera was set on me, I was given a radio if I needed to call for help, and had a voice recorder in hand as the team explored the rest of the floor, but always close. I tried to invite whoever to come in with me and show me how helpless the TB made them feel or talk with me. I had no reaction, but Shannon described a scratching sound from my shelf when she laid in it and heard the bed move outside the enclosure, so perhaps my friend was just ten minutes too late in joining me?
It wasn't until CHAPS took their first break to regroup that Paraex took the chance to be in the building by ourselves. The building just had that "feeling". The kitchen was visited, but no scents of bread baking as reports suggested were found. It wasn't until we reached the cafeteria that we were able to find something to spark our interest. The cafeteria is a huge, open room with a smaller one in the back. The larger room is where the adults ate and the smaller room is where the children at. We started hearing noises like walking beside us as we went to leave the children's area. Several times, different members of our three-man team thought they experienced another shadow walking with us and perhaps even feet blocking out parts on the wall.
Activity died down there and we joined back up with CHAPS. It wasn't until about midnight on the third floor that Dave and I both swore saw a shadow just turn and walk into one of the patient rooms. We rushed forward, but no one was found to be the cause of the shadow. For about twenty minutes we would send someone down the hallway to entice the shadow to continue to play the dodging game with us. It was hard, but sometimes we swear we saw him dodging across the hallway behind the member we sent down the hallway.
The fourth floor is where Chris and I saw a flash (which we believe was from a second group on the fifth floor taking a picture), but there was clearly someone standing between us and the flash. My first thought was someone was on our floor taking a picture. I walked forward to talk to them, but no one was there. The staircase was behind me and Dave called to other teams to make sure no one else was on our floor. No team was as they called back with their locations. I can tell you that my eyes might have played tricks with me in the cafeteria and on the third floor, but that shadow was so real to me that my first initial thought was that they were a living human. After three years of investigation, I can tell you without a doubt in my mind I experienced my first shadow person! Other activity included Dave perhaps hearing some whispering and an emotional response that took over Paraex's Shannon on the fifth floor while trying to contact the nurse who was found hanging after her abortion. Is Waverly Hills all hype? Personal experiences tell me it isn't. The ambience of the building was enough of a trip for me, but the meeting of CHAPS and seeing that shadow person was the ultimate treasure of the whole trip. Not only did CHAPS and Paraex learn from each other, but we are already looking to plan another trip together. Lasting friendships in this can only help TAPS Family in my mind. I know that we had to pay to investigation Waverly Hills and may I caution everyone who pays to investigate somewhere to carefully read their contract, but some places are just worth it. While our evidence is still being reviewed in between our obligations to our clients, the personal experiences couldn't have been better. I hope both groups find something to present to the TAPS Family and the paranormal community that there was something behind what we experienced.
Paraex would like to thank CHAPS for the invitation followed by their friendships, Waverly Hills staff for the help and information they provided, and the "ghosts" of Waverly Hills for meeting up with us. When the long hours of sitting in the dark and reviewing evidence gets to us, this trip will be one of the high lights that reminds us what TAPS Family and the paranormal field is all about. Thanks for the reminder that hunting for ghosts and stumbling in the dark can be fun while professional!
Feedback from one of our clients
Comments like these are why we do what we do, not only is it the interest in the paranormal, but helping people....
Hi Sandy,
I just wanted to touch base with you guys and let you know that i tried my son in his bed yesterday for nap time and last night for bed time and he slept in there no problems...he whined a little bit just because he wasn't in the livingroom with me but he slept right through the night no problems. I don't know how to thank you guys enough!!! I haven't seen or heard anything or even felt anything here since you guys left. Thanks again and hope you guys had a safe trip down there and back home.
<name removed>
"Things that go bump in a Canadian Night" by Ronald Wolf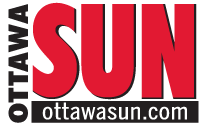 'Presence' lurks inside log home
By TOM VAN DUSEN, Sun Media
Last Updated: 30th August 2009,
By TOM VAN DUSEN, Sun Media
PEMBROKE — With this weekend marking the end of high season at Champlain Trail Museum, curator Angela Siebarth is starting to feel a little "creepy." That's because, with summer help departing, she'll be left largely alone in a main exhibit building and pioneer village that some staff and visitors believe is at least partly haunted. So much so the Canadian Haunting and Paranormal Society (CHAPS) was invited to conduct an investigation. The society recently revealed that results obtained were inconclusive.
"Haunted" might be too strong a word, Siebarth corrected. But people do feel — and she counts herself among them — a "presence" in some parts of the museum complex, notably in a pioneer log home moved to the site in the late 1960s from Rankin.
The story goes that a family which formerly owned the home once accommodated an overnight visitor; after he left, the children began to take ill and several died. "Without any prior information, a CHAPS medium felt a choking sensation in the bedrooms of that house," said Siebarth, who avoids entering it unless she has to and who would never stay overnight there. Nervous staffers have reported objects being moved around the bedrooms without explanation. Then there was the "mannequin" incident. Members of a tour group asked about a male prop sitting in a buggy in part of the museum compound. The thing is, Siebarth said, there was no mannequin in the wagon and never was. "That buggy has been moved inside for the winter, just across the way from my office," the curator sighed, noting a general feeling of "creepiness" in the main gallery collection area.
She allowed that becoming curator of a collection which conjures up the spirits of the Ottawa Valley's colourful past might not have been the wisest career move for someone easily spooked
Calming the situation somewhat are the findings of CHAPS, self-described "enthusiasts of the other side" who conduct free investigations of things that go bump in the night. Siebarth hopes the ghostbusters will come back for another look later this fall.
Love to, said CHAPS director David Gibb, a former Pembroke resident, who described the Champlain Museum overnighter as "fairly uneventful." "There were a lot of shakes and rattles which is normal for wood structures. The relics room did give a vision to a few of us. We adjusted our cameras to catch something but technical difficulties didn't permit it to work." Noting that his group will soon search for proof of the beyond in a private home in historic Burritts Rapids, Gibb said he'll return to Pembroke with a less intrusive, smaller crew, hoping for some closer encounters than the first time out.
http://www.ottawasun.com/news/ottawa/2009/08/30/10671231.html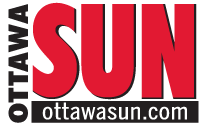 News Ottawa and Region
Valley's Got Talent winners take to festival stage
By TOM VAN DUSEN, Sun Media
Last Updated: 8th August 2009, 7:29pm
PEMBROKE — Arnprior rockers Static Notion have been declared the $1,500 first prize winners of the Ottawa Valley's Got Talent contest, part of this weekend's Waterfront Festival which concludes on Sunday.
Static Notion got to open here on Saturday for Prairie Oyster while second place rock band, After School Special, opened for Foot Soldier on Friday. Third place went to vocalist Vicky Charbonneau who performs on Sunday with Valley favourite, Quyon's Gail Gavan, at 4 p.m.
Also Sunday, the Festival Drumming Circle is at 12:30 p.m. and the Ottawa Valley Shanty Show starts at 1:30 p.m.
Speaking of the shanty days, the Shaw family used the festival as a backdrop to officially hand over to the city the now famous timber crib, which it floated down to Ottawa as part of Pembroke's 180th anniversary celebrations last year.
While taking in the waterfront action today, the Ottawa Valley Historical Society is inviting visitors to its Blueberry Festival, 11:30 a.m.-3 p.m., at Champlain Trail Museum. Hugli's Blueberry Ranch is offering a serving of berries, cake, ice cream and beverage for $7, half price for kids under nine. As if that weren't enough, members of the Canadian Haunting and Paranormal Society will be on hand to reveal results of their investigation of the museum.
http://www.ottawasun.com/news/ottawa/2009/08/08/10403071.html
Picture taken for The Daily Observer newspaper at the BlueBerry festival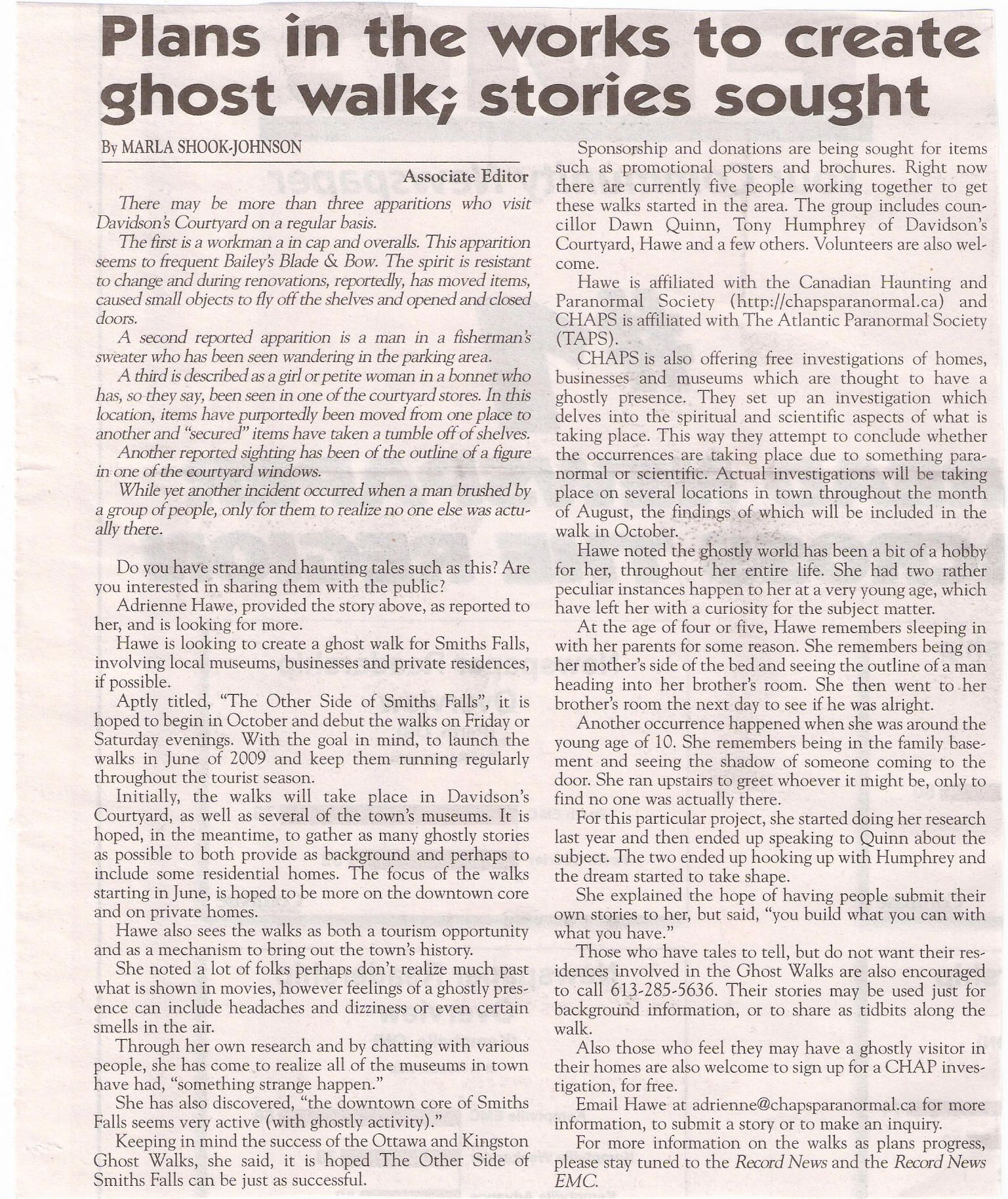 SPIRIT ENCOUNTERS
Communicating with the paranormal in Petawawa
Posted By TINA PEPLINSKIE
Ever hear footsteps in your house, but you are the only one at home? Ever walk into a room and get that eerie feeling? Ever been afraid to go down into your basement? If you've had these or similar experiences, you might consider calling the Canadian Haunting and Paranormal Society (CHAPS), which is what Amanda and Steph Tremblay did recently.
CHAPS is a group of dedicated paranormal researchers which uses the science and the spiritual background of its members to conduct investigations for people who've been having that "haunting feeling".
These are not "Ghostbuster" type investigations. Researchers don't go in to catch a ghost, says CHAPS director and lead investigator Dave Gibb.
Instead, the goal is to gather evidence and provide a scientific explanation about the phenomenon. "We want to help people but our major goal is to discredit the haunting so when we actually find something it is more exciting," he said. At the Tremblays Dundonald Drive residence, a 32-year-old corporal took his life in 2001 in the unit next door. Neighbours believe the house remains vacant and serves as a storage building because the only family to live there moved after three days. Late last month, I accompanied CHAPS as it embarked on its investigation.
The Tremblays tell the team most of the activity is concentrated in the basement and an upstairs back bedroom.
The group relies on standard video and audio recorders to capture evidence in the form of orbs or voices known in the trade as electronic voice phenomena (EVP). It also uses a device to measure the electromagnetic field (EMF) in the residence. It must remember to take into consideration existing power sources when taking the initial base readings.
Orbs, circular objects that appear in photographs, are believed to be reflections of moving particles, such as dust or bugs. Or they could be the manifestation of a spirit.
EVPs are sounds picked up on recording devices, but not heard by the human ear.
When the CHAPS team, consisting of lead investigator Dave, technical manager and investigator Dan Sehn, researcher Cathy Morden-Sehn and group psychic Kim Foster, arrives at the Tremblays it is a regular Sunday night for the family. The team members go to work. Concentrating on the basement, they set up an infrared camera, get baseline electromagnetic field readings, and look for cold spots that signal a spirit drawing on energy from that location. While Dave and Cathy record the initial readings, Dan snaps photos to see if his camera catches anything unusual.
Drifting off, Kim tries to connect with any spirits lingering in the house. Her senses allow her to distinguish between residual energy and that of an entity. The group keeps the preliminary findings secret from Kim so if she does reveal something it helps to authenticate the information. Dave feels she already knows too much about this case, as she is aware of the man's suicide. She does not, however, know his name, age, or anything else about his family history. "The less I know the better so I don't get confused or swayed," Kim says.
After milling around the basement, suddenly she sees a man sitting on the basement floor wearing military fatigues and an army shirt. Dave begins baiting the entity. The man is curious why they are interested in talking to him. He was a private person and feels they are getting too close, according to Kim. Minutes later Dan, who is standing near the basement stairs, quietly walks over to Dave and whispers something. Dave moves to the bottom of the stairs armed with the EMF meter. Dan hears footsteps coming down the stairs and sees a dark shadow. I get goose bumps. The hair on my arms stands up with the sudden revelation, especially as the EMF meter is pointed directly at me and begins to squeal indicating increased electromagnetic activity. For a skeptic, I definitely have chills. "There was nothing threatening, it was just wandering about," Dan told me later. "I thought it was a team member then realized we were all down here." This discovery has me wondering where and how the entity will reveal itself again during our visit. Going into the investigation, I didn't want to get my hopes up, but now I can't wait to see what the footage reveals. Moments later focus shifts upstairs and the spirit tells Kim the room reminds him of his own childhood bedroom.
When the Tremblays moved into the PMQ nearly a year ago, Steph learned about the suicide next door from neighbours, but warned them not to tell Amanda. She noticed weird things even before she knew what happened. When neighbours reveal the information to her, they also shared experiences of similar activity in the same areas of their homes.
Amanda says a small table that normally sits against the wall moved to the middle of the room and the door periodically closes on its own. A battery-operated toy also went off in the middle of the night. She thought the batteries are dying, but they aren't. The Tremblays have both heard footsteps on the basement stairs, but Steph notes it hasn't happened in a while. "I'm not freaked out by it," he said. "It interests me, but it doesn't scare me. I don't think it is anything bad." There are times when Amanda simply can't bring herself to go into the basement because of a weird feeling she gets. She believes the spirit moves because she doesn't always feel its presence. Recently, the Tremblays' young daughters were in their room playing when the oldest girl let out a blood-curdling scream. Steph and Amanda rushed to the bedroom. According to their daughter, she just saw a man's face in the mirror.
In the week following CHAPS' on-site visit, Dave and Dan review the video and audio footage. Dan's video camera, which was left running in the Tremblays' upstairs bedroom didn't capture anything. It stopped after recording only 13 minutes despite having a fully charged battery. Spirits can drain energy from other power sources, Dave notes. The video from the infrared camera, which was set up in the basement tells a different story. There are a few self-propelled objects, including two separate feather-like formations that change directions suddenly. There is also a picture with an orb. "The EMF readings were very scattered and in the wrong places, there were personal sensations, light anomalies on film that make me say it was not dust or bugs," Dave says, summarizing the findings. "There are enough blips that we want to go back and spend more time at the house."
The team also interviewed neighbour Joe Slade, who lives a few doors away from the Tremblays, when it arrives. Strange things have happened at his home since he moved to the residence in 2003. He's heard footsteps in the middle of the night and saw someone in his peripheral vision. The Slade's young son experienced night terrors until they moved him away from the back bedroom where the activity was the strongest. Whatever "it" is, Joe doesn't feel that it is mean or out to harm his family, but he still turns on the lights before entering a room. "It's not a big deal, I'd just rather not see him," he said. The Tremblays are willing to have CHAPS continue the investigation, however Amanda reports the family hasn't experienced anything out of the ordinary since the CHAPS' investigation.
The next step will be for the team to include a few more houses along the Dundonald Drive row, where residents are reporting similar experiences.
CHAPS was formed in 2006, and was recently accepted as a member of The Atlantic Paranormal Society (TAPS) based in Rhode Island. CHAPS is one of only three Canadian groups to have this distinction. All investigations are done free of charge and the group is always looking more work.
For more information visit www.chapsparanormal.ca. tpeplinskie@thedailyobserver.ca